Plant a Garden
June 01, 2017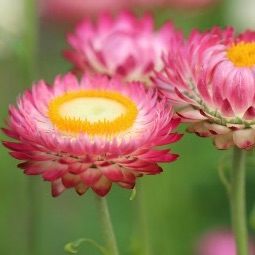 Summer begins on June 20 this year, so this is an excellent time to begin thinking about a summer garden. A garden can transform a drab yard into a showplace. As you think about your garden, take advantage of all the resources available, and plan before you plant.
First, it is helpful to know some flower basics:
What kind of flowers?
Annuals: Some flowers are annuals, which means their life cycle only lasts one year. They grow, bloom, produce seeds and die in a single growing season, and must be replanted each spring. Annuals require more effort, but bloom for a long time.
Perennials: Perennials return every year, so they do not need to be replanted each season. They keep growing until they reach full maturity, usually in 3-5 years. Perennials require less work, but bloom for a short time, just a few weeks a season.
Biennials: Biennials have a two-year life cycle. They grow leaves their first year, and then bloom and produce seeds the second year, after which they die.
It is helpful to plan your flower garden so that something is always blooming. Organize your plantings so that flowers blossom at different times, and you'll have color all season.
Here are some excellent Flower Gardening Tips from Redeem Your Ground.
If you are planning a vegetable garden, one very helpful tool is a Planting Calendar. This planting calendar from the Old Farmer's Almanac is an excellent resource. The calendar uses your location to customize a planting schedule for your growing area. The Old Farmer's Almanac, originally published in 1792, is the oldest continuously published periodical in North America, and has been providing planting charts and gardening advice for well over 200 years.
When you begin to plan before you plant, think about the layout of your garden. You can find a LOT of helpful information on "Basic How-To's for Planting Plants at redeemyourground.com. Here's a video with some great guidelines, brought to you by EXMARK, the premier lawn mower company, and Doug Scott of Redeem Your Ground:

June's flower is the rose, which remains the world's most popular and acclaimed flower. If you're interested in growing roses, Lowe's has some wonderful tips for planting and maintaining a rose garden.
Lowe's has also created some very helpful videos, including this one, "How to care for roses in the summer:"
So, once you have the basics down, and have done your planning, it's time to start planting!